Festival of Lights and Greensboro Holiday Parade
to be held Dec. 3 + 4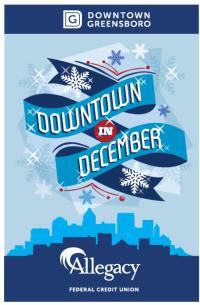 Downtown Greensboro, Inc. (DGI) is excited to announce the return of traditional holiday events for this year's Downtown in December presented by Allegacy. The 2021 programming will include the Festival of Lights on Friday, December 3 and the Greensboro Holiday Parade on Saturday, December 4, as well as additional experiences introduced last year during the reimagined holiday season.
"We are thrilled to once again partner with Downtown Greensboro to celebrate the magic of the holidays with our community, family and friends," said Chrystal Parnell, Allegacy, Senior Vice President, Marketing. "Our sponsorship of 'Downtown in December' and other events throughout the year allows us the incredible opportunity to support and encourage folks to visit downtown Greensboro to support the many businesses and restaurants that are the backbone of our community."
Back and better than ever, the Festival of Lights has been a holiday tradition for more than 30 years. This year's festival, to be held on December 3, will include holiday favorites like the community sing-along, lighting of the community tree in Center City Park, and carolers and acoustic performances along Elm Street. Enjoy a laser show at the corner of Martin Luther King, Jr. Drive and S. Elm Street, find Santa in Hamburger Square, and roast marshmallows along the way. Restaurants and retailers will be open late for all to enjoy a great meal and holiday shopping.
The next morning, December 4, head back downtown for the return of the Greensboro Holiday Parade. A downtown tradition for over 40 years, the parade will once again feature huge Macy's-style balloons, floats, dance and drill teams, and the area's best marching bands. Those interested in participating in this year's parade must complete an online entry form. 
The following are the other planned experiences to be held during Downtown in December presented by Allegacy. More details about all of these can be found at www.downtownindecember.org.
PIEDMONT WINTERFEST: November 19 – January 30
The downtown outdoor ice rink will once again be located in the parking lot off East Lewis Street (near SouthEnd Brewing and Fat Tuesday).
MERRY MADNESS PASSPORT: November 27 – December 24
Find a local spot to support this holiday season, and you could win $500! After spending $25 or more in a downtown business, participants can upload a photo of their signed receipt to be entered into a weekly drawing for $500. Additionally, the represented business on the receipt will also receive $500. Entries are received via the Downtown Greensboro app.
HOLIDAY WINDOW DECORATING: November 27 – December 24
Downtown businesses are ready to get in the holiday spirit. Take a stroll through downtown and vote for your favorite window display beginning on Small Business Saturday.
TINSEL TOWN: December 3-31
Tinsel Town returns in 2021, this time with the hope of 100 uniquely decorated trees purchased and decorated by a local corporation, group, non-profit or family. Tinsel Town will be open daily 9:00 a.m. until 9:00 p.m., in LeBauer Park for free family-friendly walk-thrus. The community is invited to vote for their favorite trees and the top five vote getters will receive $500 donations. The sponsorship form to purchase a tree is located online.
PEPPERMINT ALLEY: December 3-31
Take a walk along Peppermint Alley and enjoy festive family-friendly holiday decorations. Located in the alley next to Boxcar Arcade in the Southend, it's a selfie-lovers dream!
SANTA AT THE BILTMORE HOTEL: Dec. 4-5, 11-12, 17-19
Visit Santa at The Biltmore Hotel as a part of Downtown in December presented by Allegacy. Like last year, Santa visits will require advanced reservations. Safety precautions, including a plexiglass screen, will be on-site to ensure a socially responsible visit with Santa.
SANTACON BAR CRAWL: Dec. 11
Dress up in your favorite holiday costume or ugly sweater and bar crawl to many participating downtown businesses during Otis & Wawa's 6th annual SantaCon fundraiser in Downtown Greensboro. Proceeds and donations will be given to a local non-profit organization for Kidsmas Miracle. Tickets can be purchased online.
To accomplish all of these experiences, DGI is asking for volunteer support. Click the volunteer link at www.downtownindecember.org to sign up.
"I can't even begin to express how excited I am to welcome holiday tradition back to Downtown Greensboro," says Zack Matheny, President and CEO of DGI. "While we were able to provide innovative ideas to celebrate last year, there's nothing more special than the Festival of Lights and Holiday Parade. I look forward to welcoming the community back to the center city to kick-off the holiday season in a spectacular way."