Open Streets
SATURDAYS, 5-10 PM
BEGINNING MARCH 20
We're closing it down to open it up.
Shop local and enjoy patio dining along a pedestrian-friendly Elm Street (from Market Street to Lewis Street)

Every Saturday | 5-10 pm
---
DINE AL FRESCO | SHOP LOCAL RETAILERS
PARTICIPATING RESTAURANTS
1618 Downtown*
Baked Downtown
Bearded Goat*
Beer Co.*
Blue Denim (takeout only)
Bonchon
Boxcar Arcade*
Cheesecakes by Alex (takeout only)
Chez Genèse (takeout only; reopening in May)
Cincy's*
Crafted*
Crooked Tail Cat Café
Fat Tuesday*
Green Bean*
Grey's Tavern*
Heavenly Buffaloes*
Jerusalem Market*
Lao (reopening soon)
Lewis & Elm Wine Bar (opening May 1)
Liberty Oak*
Little Brother Brewing*
Los Chico's*
M'Coul's Public House*
Mellow Mushroom*
Natty Greene's*
SouthEnd Brewing*
White and Wood*
*patio seating
---
ADDITIONAL RESTAURANTS
the following restaurants are not part of the Open Streets footprint, but do offer outdoor dining on Saturday evenings:
B. Christopher's
Café Europa
Dames Chicken and Waffles
Dram & Draught
Joymongers
Luxe Soulfood & Cocktails
Machete
Next Door Bottle Co.
One Thirteen Brewhouse + Rooftop Bar
Porterhouse at LeBauer Park
Sage Mule
Stumble Stilskins
The Bodega
Undercurrent
Union Coffee
PARTICIPATING RETAILERS
ArtMongerz
Bliss & Co.   
Design Archives  
Gate City Yarns      
Golden Spiral Studios (appointment only)
Hudson's Hill    
Jacob Raymond Custom Jewelry
Just Be    
Lee + Wrangler     
Oscar Oglethorpe (by appointment)
Polish and Threads   
ReAligned   
Rock's Hair Shop
Scuppernong Books (by appointment)
Stolen
Stitch-FX
Terra Blue              
Vintage to Vogue 
Vivid Interiors
Legacy Iron Tattoo (appointment only)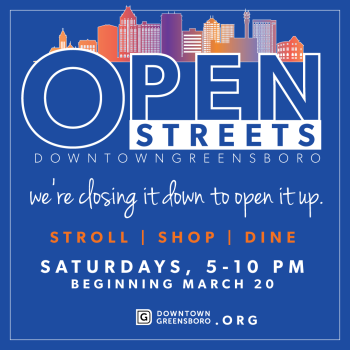 ---
HOW IT WORKS
Come downtown to Elm Street during the designated Open Streets Hours for a pedestrian-friendly experience. Restaurants will be offering patio dining. Shops will be having sidewalk sales. Alcohol may only be consumed while seated at restaurant tables.
PARKING
Parking is available in our parking decks and streetside on streets not blocked off for pedestrian traffic.
Parking is free all day on Saturdays.
SAFETY FIRST
COVER UP | face masks required to prevent the spread of germs.
CLEAN YOUR HANDS | with soap or hand sanitizer regularly
MIND THE GAP | maintain 6-feet of social distancing between you and your neighbor.
FEELING BLUE? | if you're feeling under the weather, or just not quite right... please stay home!