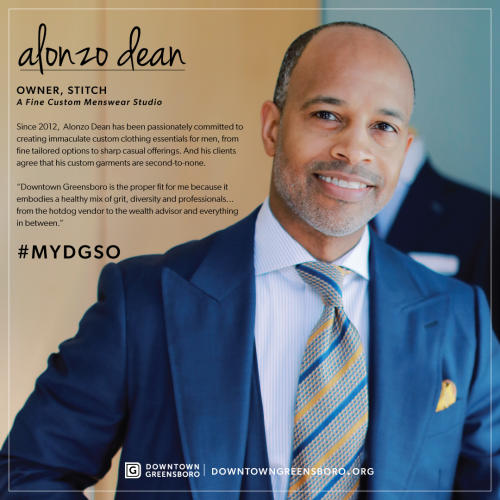 Alonzo Dean took possession of his retail space in October of 2011, where "Stitch", a fine custom menswear studio, then opened for business on the first day of February 2012.
"I chose downtown because I thought is was the proper fit for me; it embodies a healthy mix of grit, diversity and professionals, from the hotdog vendor to the wealth advisor and everything in between. 
I've heard it said and tend to believe that a vibrant business district is an indicator of the long term health of a city.  I also think that statement rings more true during a downturn like we are currently navigating through. Perhaps downtown's greatest attribute is its personality because that's derived from the people and ideas that inhabit it.
The broader community should know that there is actually a place called Stitch located in downtown Greensboro that is owned and operated by someone who is and has been passionately committed to instilling the utmost confidence in its clients by creating immaculate custom clothing essentials including fine tailored options to sharp casual offerings for men.  And not only am I passionately committed to this, I am accomplishing this one client at a time year after year."