To follow are events scheduled for Friday, June 4. 
Have a night on the town in the center city! Grab a bite at one of our great restaurants and then enjoy these wonderful events: 
First Friday Market & Music @ SouthEnd Brewing Co.
5-9pm Makers & Artisan Market
7-10pm Live Music with Wristband
All ages event. Free admission. Parking available at the corner of Gate City and Elm on gravel parking lot.
---
First Friday Art in the Park | 6:00-9:00 PM
Painters, potters, and more will make their way to Center City Park every first Friday of the month for demos and hands-on projects led by artist-instructors from Art Alliance. Come on and try it - because art is for you!
---
First Friday Drum Circle at Center City Park | 6:30-9:00 PM
Join Healing Earth Rhythms for a community drum circle every first Friday of the month. You'll have a blast passing the beat among neighbors and friends. No drum? No problem! There are plenty of loaners you can borrow.
---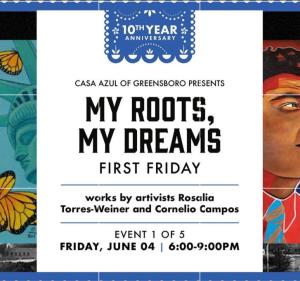 African American Atelier in the Cultural Arts Center | 6:00-9:00 PM
Casa Azul of Greensboro the opening night of MY ROOTS, MY DREAMS! 
---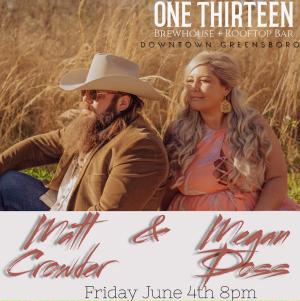 Matt Crowder + Megan Doss at One Thirteen Brewhouse + Rooftop Bar | 8:00-11:00 PM
Acoustic tunes from country to top 40 and rock. 
---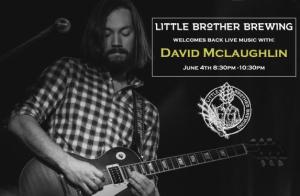 David McLaughlin at Little Brother Brewing | 8:30-10:30 PM
David is a local singer-songwriter who plays classic rock, blues, and soul covers, as well as originals. He is also a member of the band House of Fools.
Free show
---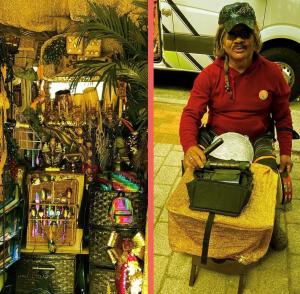 Operation Smiles at Elsewhere Museum | 6:00-9:00 PM
Special guest, Harold Speaks, will show off his breathtaking "Mobile Egypt" van environment, set up miniature golf and other games, and perform his music live. Bring an instrument if you would like to join in. Museum exhibits will be out front for your interactive pleasure, and the swings will be swinging! Register here.
---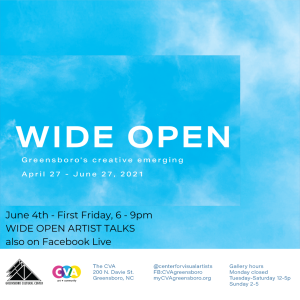 First Friday Wide Open Artist Talks @ the CVA | 6:00-9:00 PM
Drop by to hear artists in conversation about their work in the Wide Open exhibition. Meet the artists, ask questions, and see the show! There will also be live-stream on the Facebook page for all those at home. Also on view will be the Artist in Residence Karen Archia who is gearing up for her end of residency show in July.