Downtown Greensboro Catalyst Grant Program
The DGI Catalyst Grant Program is designed to support the economic vitality of Greensboro's Central Business District by providing financial assistance for the enhancement and/or redevelopment of eligible commercial properties. The program will allow Downtown Greensboro Inc. to award financial assistance, at its discretion, to any property or business owner with a qualified project to help pay a portion of costs associated with renovating an existing commercial business space or preparing it for a new business venture. The funds provided by the Program will serve as a catalyst for increasing the vibrancy and economic vitality of Downtown Greensboro.
Program Goals
Expand the local property tax base by stimulating new investment in older downtown properties.
Expand the state and local sales tax base by increasing sales for new or existing shops.
Supply needed "but for" financial assistance to aid in complex commercial properties downtown.
Attract new businesses that provide needed or desired services or products downtown to address the demand of residents, employees, and visitors.
Retain existing businesses downtown that would otherwise move from the center city.
Direct additional attention and assistance to areas of downtown in need of more targeted, storefront-level, economic development support.
Do I qualify for this grant?
To ensure that you or your project are eligible for this grant, please answer the following questions before beginning the application process:
Does your business meet a need that is currently unmet downtown?
How will your project increase the vibrancy downtown?
Are there similar businesses or business ventures in the area?
What benefits will your project bring and how will it impact the community?
Will your project provide significant new investments in downtown or expansion of an existing business?
Will your project create more jobs downtown?
Grant Priority Area
Projects located within downtown areas that are in need of more targeted storefront-level support will receive priority status and additional points on the grant scoring sheet. Targeted priority areas are defined as the areas in green on the map below: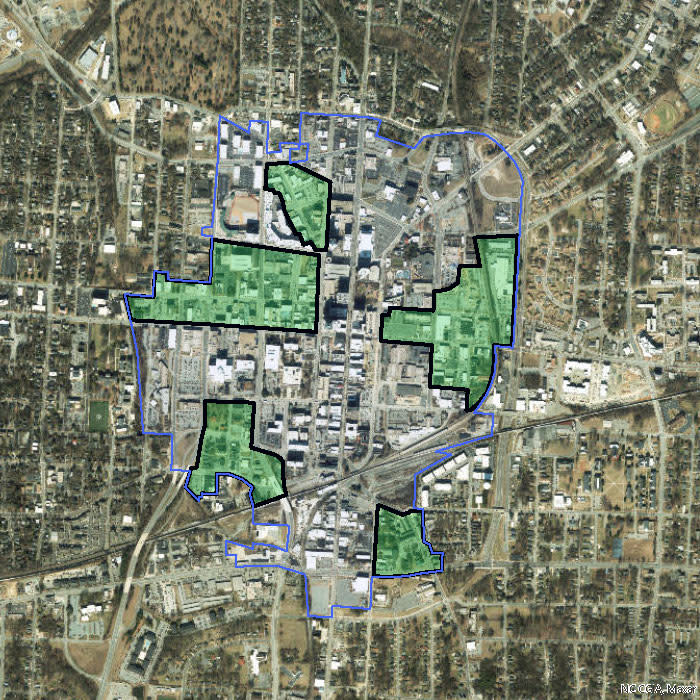 Scoring Criteria
Grant applications will be scored based on the following criteria:
Scoring Criteria

Maximum Points

Strength of Business Model

Measures how projects will create ongoing value for customers.

20

Business Demand/Desirability to Current Mix

Measures how closely in-line the project is with DGI's current business recruitment priorities

20

Potential to Influence Tax Value

Projects that increase the overall tax value of downtown properties

15

Project Readiness

Application is imminent and financially sound

15

Project Need

Projects that have a clear and present need for financial support will be given priority

10

Property "Change of Use"

Project creates new functionality and significant new value for an existing commercial space

10

Number of New Full-time Jobs

2-3 (5 points)

4-6 (10 points)

7+ (15 points)

5-15

Business Location

Project is located in the designated priority areas

5

MWBE Status

Business must be owned by 50% or more who identify as minority, female, LGBTQ+, veteran or person with a disability. 

Minority-owned businesses registered as MWBE with the City of Greensboro (5 points)

Minority-owned businesses not registered as MWBE with the City of Greensboro (2 points)

2-5

Total Possible Points

115
Interest Form and Application
Contact Information
For more information or questions about applying for this program, contact: Rob Overman, Director of Strategic Initiatives