2030 Vision Plan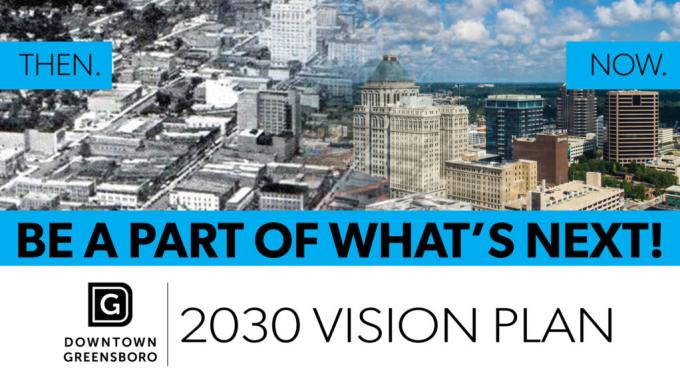 How should downtown look, feel and function 10 years from now? DGI and its partners are crafting a new strategic action plan for Downtown and we need your input. Let's think BIG.
Online Survey | NOW CLOSED
Thanks to those who participated the 2030 Vision Plan online survey and attended our city-wide pop up events. DGI received 1,200 online surveys through this exciting process!
Our consultants will continue compiling the public input received. DGI is excited to share the final plan this spring. Thank you for taking the time to give us your input on how you want downtown to look, feel and function 10 years from now.
About the Plan
What does the next decade hold for Downtown Greensboro? Downtown Greensboro Inc., in partnership with the City of  Greensboro and Guilford County, is developing a new strategic action plan for the future of Downtown. The 2030 Vision Plan will outline goals, strategies and "big moves" that will shape Downtown for the next 10 years. With an emphasis on "action," the plan will lay out clear steps to achieve our shared goals.
Community Participation
We're undertaking a community-wide effort to collect public input for the Vision Plan. For several months, we've been meeting with residents, business and property owners, students, employers, young professionals and more to gather ideas and inspiration for the Vision Plan. In November, two community workshops and a series of stakeholder meetings were held to collect input from more than 200 participants. This is a community engagement process sought to ensure broad-based feedback from a cross-section of community members and stakeholders in Greensboro.
LEARN MORE ABOUT THE PLAN HERE.
Questions? Email: Sarah Healy, Director of Operations, DGI