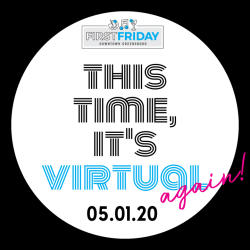 Our first Virtual First Friday in April was a huge hit... so let's do it again! (Well the decision was kinda made for us... but you know what we mean.) To follow are VIRTUAL events scheduled for Friday, May 1. 
Order some takeout from your favorite downtown restaurant, login and let's celebrate the First Friday May!
HOW IT WORKS: Simply click the bold/underlined business names at the posted time and you'll be taken to the location where they will host their live feed. Most of the time, it will be via Facebook Live.
GreenHill | 11:00 AM: Masterpiece Friday  
Join us for the all-time favorite alphabet book, Chicka Chicka Boom Boom, written by Bill Martin, Jr. and John Archambault, illustrated by Lois Ehlert, and published by Simon & Schuster, 1989. Our Art at Home series features collage-making.Don't miss exploring works by Celia Johnson in Looking at Art!
Popcorn + Cocktails w/ SynerG | 5:00 PM: Kickoff the evening with homemade popcorn and libations with Cecelia Thompson and Sarah McGuire... live on SynerG Instagram feed. 
Triad Stage | 5 PM: Backroad to Brooklyn, live concert
a wide variety of genres including pop, R&B, Country, Soul, and Top 40 Hits from the 1950s to today.
Greensboro Downtown Yoga | 5:30 PM will feature a Cardio Yoga class live on YouTube. Cardio Yoga is a Vinyasa (a flowing sequence) of Dynamic Yoga Asanas (yoga postures set into dynamic movement). The entire class is structured as a CALORIE BLASTING moving meditation.
Dance Project | 5:45 PM: Jazz III/IV live class in ideal for anyone 13 and older wanting to get their blood pumping. Classes are streamed live via Zoom. Contact Lauren to receive the Zoom access ahead of the class time.
Blue Denim | 4:00-6:00 PM: FIRST FRIDAY FREE ART at BLUE DENIM! 
Order takeout from Blue Denim on First Friday to be eligible to win 5 original art sketches by local artist Denise Landi. Pickup your curbside orders between 4-6 PM and you could be chosen to win a custom sketch... and maybe even some toilet paper! Five total winners will be randomly selected during the pickup time.  
Just Be | 6:00 PM: 15th Anniversary Live Virtual Sale!
Tune in to their Instagram for a live virtual sale. Exclusive pricing on one-of-a-kind items. 
beerthirty | 7:00 PM: Poundcake Acoustic Live!
Tune in on beerthirty's Facebook page. 
Little Brother Brewing | 8:00 PM: Friday Night Live featuring Ashley Virginia & Ricky Perez
Ashley Virginia's music is bold and unapologetic, yet incredibly vulnerable. She demands your attention because she has important things to say and a voice that makes you want to listen. Joining her for the evening is her partner and drummer, Ricky Perez. Together they will play an assortment of their favorite songs by The Beatles, as well as original songs by Ashley.
Vintage to Vogue | 8:30 PM: Celebrity Queensboro Virtual Show will be a show you don't want to miss! Enjoy watching local Queens impersonate some iconic celebrities during this FREE virtual event. (18 and over please)
BONUS EVENT!
Moore Music | 10:00 AM and 11:00 AM on May 2nd
1st Saturday ukulele circle. Beginners at 10; ukelele jam at 11:00 . Via Zoom meeting id 852-5743-0818. Free and fun!