To follow are events scheduled for Friday, June 3rd.
---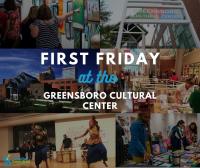 First Friday at the Greensboro Cultural Center | 6:00 - 9:00 PM
First Friday is back at the Greensboro Cultural Center! Join us on the 1st Friday of the month from 6-9 pm for live performances, open galleries, and creative activities from our partners, including a chance to win prizes. This is a perfect time to see, shop, create, and explore Greensboro's hub for creativity
---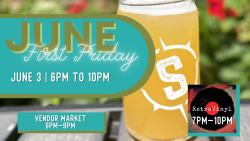 June First Friday @ SouthEnd Brewing Co | 6:00-10:00 PM
Join us for beer, food, pop-up vendor market and live music on Friday June 3rd. Retro Vinyl will be live in the parking lot behind the brewery along with several local vendors!
---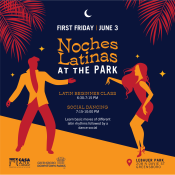 Noches Latinas at the Park | 6:30 - 10:00 PM
Join Casa Azul of Greensboro & Maria Gonzalez every First Friday for Noches Latina- a night of latin dancing!
Learn Salsa, Merengue, Bachata, and more from guest instructors before letting loose on your own during this upbeat community social.
---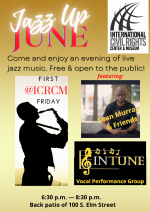 Jazz Up June | 6:30 PM - 8:30 PM
Kicking off Black Music month with 1st Fridays at the International Civil Rights Center & Museum.
Singing Dancing and Much More!
---


First Friday Art Park with Art Alliance | 6:30-8:30 PM
Painters, potters, and more will make their way to Center City Park every first Friday of the month for demos and hands-on projects led by artist-instructors from Art Alliance. Come on and try it - because art is for you!
---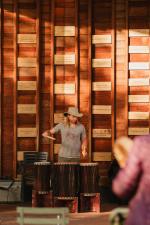 First Friday Drum Circle with Healing Earth Rhythms | 6:30 PM-9:00 PM
Drum roll, please! You'll have a blast passing the beat among neighbors and friends. Thanks to Healing Earth Rhythms, we're bringing drum circles each month through November. No drum? No problem, there are loaners you can use. No experience needed, everyone is welcome.
---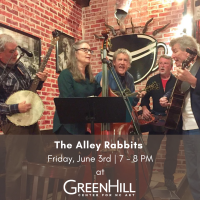 Live Music by The Alley Rabbits at GreenHill | 7:00 - 8:00 PM
Music will be played from 7-8 PM on the backdrop of the current exhibition H2O. The Gallery and Studios will be open from 6-9 PM