TO FOLLOW ARE EVENTS SCHEDULED FOR FRIDAY, JANUARY 6TH. 
---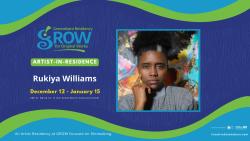 GROW: Rukiya Williams | 6:00 PM-9:00 PM
View the first draft of Rukiya William's documentary as a part of the artist and filmmaker's GROW residency. Williams will create a documentary from interviews with local artists conducted over a span of a decade. Williams' goal is to showcase Greensboro's creative community and highlight their journey as growing artists.
---