To follow are events scheduled for Friday, April 1st. 
---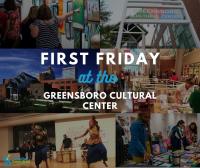 First Friday at the Greensboro Cultural Center | 6:00 - 9:00 PM
First Friday is back at the Greensboro Cultural Center! Join us on the 1st Friday of the the month from 6-9 pm for live performances, open galleries, and creative activities from our partners, including a chance to win prizes. This is a perfect time to see, shop, create, and explore Greensboro's hub for creativity
---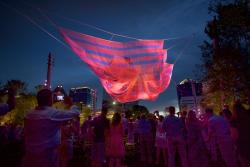 Spring Blooming at LeBauer Park | 6:00 - 9:00 PM
On the First Friday of April, Greensboro Downtown Parks is kicking off the parks' busy season by celebrating the return of Spring, marked by the year's first lighting of Janet Echelman's hanging sculpture, Where We Met, as it returns from winter hibernation. 
---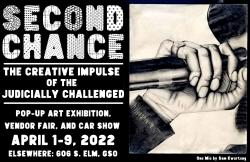 Second Chance: The Creative Impulse of the Judicially Challenged | 6:00-9:00 PM
Experience the talents of the judicially challenged through visual arts, performing arts, car restoration and enhancement, and entrepreneurship.
---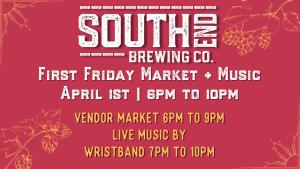 First Friday Market + Music @ SouthEnd Brewing Co | 6:00 PM-9:00 PM
Join us Friday, April 1 from 6PM to 10PM for First Friday Market + Music! Support local women-owned businesses in our market from 6PM to 9PM. Dance and jam to Wristband live from 7PM to 10PM! Our kitchen will be open and we'll have Taste of Creole Food Truck out as well! Family-friendly, dog friendly (outside), and a great time for all!
---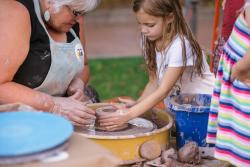 First Friday Art Park with Art Alliance | 6:30-8:30 PM
Painters, potters, and more will make their way to Center City Park every first Friday of the month for demos and hands-on projects led by artist-instructors from Art Alliance. Come on and try it - because art is for you!
---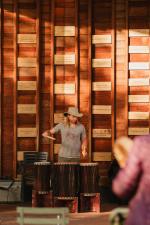 First Friday Drum Circle with Healing Earth Rhythms | 6:30 PM-9:00 PM
Drum roll, please! You'll have a blast passing the beat among neighbors and friends. Thanks to Healing Earth Rhythms, we're bringing drum circles each month through November. No drum? No problem, there are loaners you can use. No experience needed, everyone is welcome.
---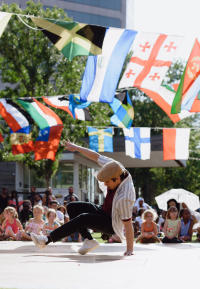 Sweat the Technique Cypher with Dance Project | 6:30 PM-7:30 PM
Calling all electric boogaloo fans! This fun hip hop cypher, hosted by Dance Project, is open to the whole community. Dancers of all skill levels are invited for a chance to show off their moves! 
---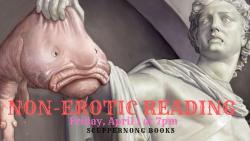 Scup's Non-Erotic Reading | 7:00 PM
Staff and Friends read selections from The Guardian's 'Bad Sex Awards.'
Non-Erotic Video Clips
Live Music by The Well-Equipped
All donations support Scuppernong Editions, our non-profit small press.
---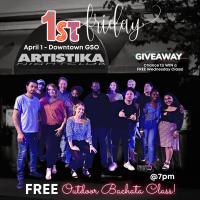 Free Outdoor Bachata Class at Artistika | 7:00 PM
We're kicking off the First Friday of the season with a Free Bachata Class outside! No experience needed.. no partner needed.. just stop by and join in.
All participants will have the opportunity to enter for a chance to win a free one-hour bachata lesson at our Wednesday night Latin dance social. 
---