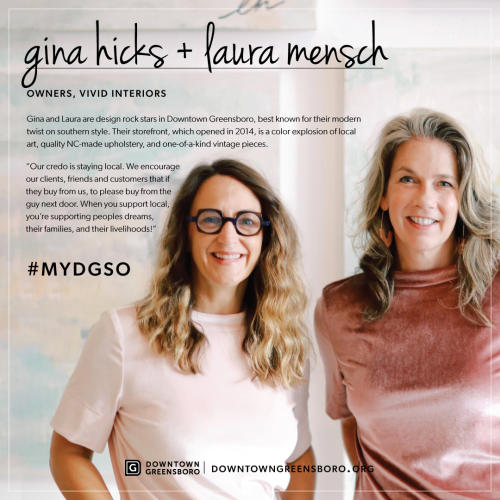 Gina Hicks and Laura Mensch moved to downtown Greensboro in 2014. They knew they wanted to be a downtown business when they felt the energy of the area: it fit both of their styles perfectly. 

"Community is everything down here. All downtowns in cities across the nation are important. They're the epitome of being local. We all look out for one another and try to lift one another up. We have made such great friends with our neighbors and fellow business owners. We even have a kickball team with some of our downtown business friends!
What do they believe downtown's greatest tribute is?
"Downtown Greensboro has everything you could possibly want. Art and artists, food, drinks, shopping, history, diversity, authenticity, and food, did we mention food, and candy, and ice cream?!?!"
Gina and Laura want the community to know that at Vivid Interiors, supporting local is a top priority.
"We're kind of design rock stars around here (tongue stuck deep in cheek), but seriously, our credo is staying local. We source local, real, art, our upholstery is NC made, and we encourage our clients, friends and customers that if they buy from us, to please buy from the guy next door. When you support local, you're supporting peoples dreams, their families, and their livelihoods!
PS, Greensboro Rocks!"