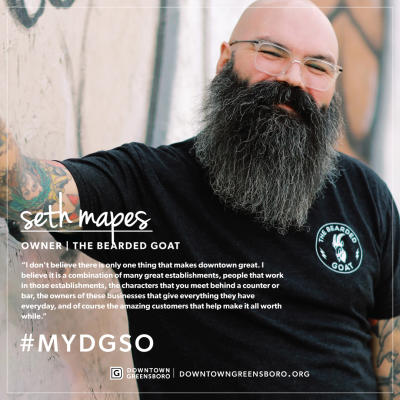 How long has your business been downtown?
The Bearded Goat has been downtown for over 4 years.
Why did you choose downtown for your business? 
Downtown is the heart of the city. When we first started looking for locations we came downtown and walked up and down Elm and feel in love with the Vibe of downtown. We knew that that's where we wanted to be and where we wanted to call  home for The Goat.
Why is the downtown community important to the city as a whole? 
The Downtown community is important because of all the love and support that pours from every person and every business. It's the community that keeps us coming back, that keeps our doors open, that supports us  no matter what and we are proud to be apart of that community! 
What is downtown's greatest attribute? 
I don't believe there is only one thing that makes downtown great. I believe it is a combination of so many great establishments, people that work in those establishments, the characters that you meet behind a counter or bar, the owners of these businesses that give everything they have everyday and of course the amazing customers that help make it all worth while! 
What do you want the broader community to know about your business and/or downtown as a whole? 
Just come as you are! It doesn't matter if you have $5 in your pocket or $100 in your pocket. It doesn't matter what your profession is, it doesn't matter if you don't know anyone or feel that you won't "fit" in. We are here and we want everyone to always feel welcomed and safe in our space!