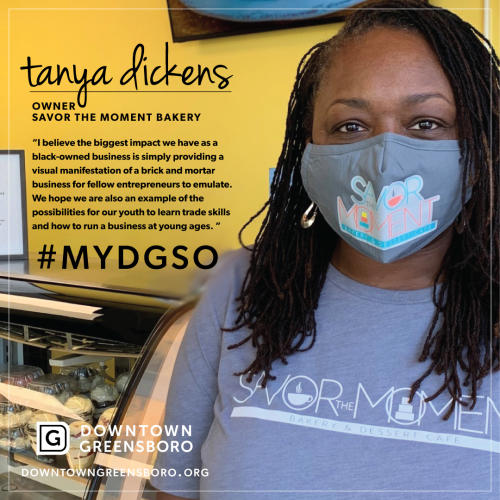 How long has your business been downtown?
We started upfitting our downtown location in Oct. of 2020 while we were still at our previous location.  We closed our old location on Nov. 25, and  we officially opened our new Downtown location on January 30th. 
What impact do you think you've had being a black owned business?
I believe the biggest impact we have as a black-owned business is simply providing a visual manifestation of a brick and mortar business for fellow entrepreneurs to emulate. We hope we are also an example of the  possibilities for our youth to learn trade skills and how to run a business at young ages. 
What do you want the broader community to know about your business and/or downtown as a whole?
We are a family-owned business with three generations working together. My mom is our head baker, I also bake, decorate and market our brand.  All five of our kids actively participate in our day to day operations.  Our oldest daughter, Jasmine, of alexis_sweetartistry, is our junior pastry chef. She bakes all of our French macarons and  decorative sugar cookies. Jasmine was featured on the local news last year and won Best in Show for her decorative cookies in regional competition in Atlanta 2019.  Our 14 year old son, Austin, has also been featured on the local news for his pastry skills.  He bakes our delicious cinnamon rolls. Our daughter Rebecca is our in-house IT specialist and web designer.  She designed our website, setup our POS, and is the first person most people meet when they enter our bakery. Our two younger kids are amazing bakery assistants as they have worked in our business for the last 3+ years.
Learn more about Savor the Moment here.