After reviewing dozens of entries, two lucky couples have been chosen to say their vows during this year's Red, White & Say 'I Do' component of the July 4th Freedom Fest in Downtown Greensboro. The winning couples will have an all-expenses-paid patriotic outdoor wedding celebration in the Freedom Fest 'footprint' -- complete with ceremony, officiant, decorations and wedding reception at the downtown Hampton Inn. 
Kendra Alexander + Sultan Ali
"We met one hot summer day in 2009 through mutual friends and we have remained friends ever since. What we both love about each other is no matter what we go through in life, we will always have a friend in each other! Being granted this opportunity means that we get to express and show our love for each other in front of not only our loved ones, but the entire community, and start our happily ever after!" (excerpted from their contest entry) 
Madeline Rose Bayne +  Justin Lee O'Neill 
"Justin and Madeline met through mutual acquaintances while living in Pennsylvania. They fell in love over their shared desire to travel and enjoy new experiences. Justin loves Madeline's ambition, spontaneity to do things on a whim, and drive to succeed. Madeline loves Justin's easygoing spirit, how hardworking he is, and caring heart. They are excited to be married in downtown Greensboro as they have decided to make this their new home. They are ready to share their love by getting married and while being welcomed by their new community." (excerpted from their contest entry) 
Couples wishing to get married during the Freedom Fest submitted their 'love stories' via the Downtown Greensboro, Inc. (DGI) website in April and May. A committee of event volunteers reviewed each entry and selected the chosen couples. More details about the process, as well as videos of past Red, White & Say 'I Do' marriages are on the DGI website. 

Freedom Fest 2023 will be held in Downtown Greensboro on Tuesday, July 4 from 1:00-6:00 p.m. along Elm Street in Downtown Greensboro. New attractions include a Blood Drive, Canned Food Drive, 28-foot climbing wall, a 27-foot water slide, and more interactive attractions than ever before. A complete festival map is available to view and download at funfourthfestival.org.
 
Volunteers are still needed for this year's July 4th event! Please sign-up at https://www.downtowngreensboro.org/fun-fourth-festival/volunteer/.
 
#  #  #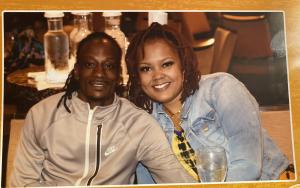 Kendra + Ali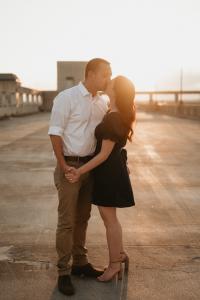 Madeline & Justin