The Greensboro native will also receive a key to the City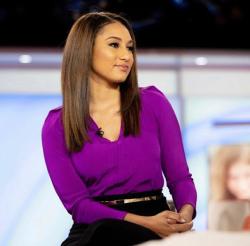 NBC News NOW anchor and Greensboro-native, Morgan Radford, will serve as the 2022 Grand Marshal for the Greensboro Holiday Parade on December 3rd. For more than 40 years, Downtown Greensboro's Holiday Parade has featured Macy's-style balloons, professional floats and live performances from the area's brightest stars.
"Welcoming Morgan as our Grand Marshal is just a small way to show her how proud we are of her and her accomplishments," says Zack Matheny, Downtown Greensboro, Inc (DGI) President and CEO, and the parade organizer. "I hope her return to her hometown is filled with fond memories and receiving a key to the City reminds her to visit often."
During her visit to Greensboro, Radford will receive a key to the City from Mayor Nancy Vaughan.
"It is an honor of a lifetime to come back to the city that raised me, and to connect with the people and places that poured so much love into me and my family. I'm proud to come from a city as intentional, kind, and open as Greensboro," Radford says. "Cheers to continuing to share the values that make me a 'Greensboro Girl' with the rest of the world!"
Radford is an anchor for NBC News NOW, NBC News' 24/7 streaming news network, and a correspondent across NBC News. She is also a co-host of NBC News Daily on NBC News NOW and NBC. Radford's reporting appears across TODAY, NBC Nightly News with Lester Holt and MSNBC. She is based in New York City.
Since joining NBC News in 2015, Radford has covered the country's biggest stories including the 2016 and 2020 presidential elections, the disproportionate impact of COVID-19 on low-income communities, and America's racial reckoning following the 2020 shooting death of George Floyd. Her coverage of the immigration debate over the U.S. southern border was part of the MSNBC "Border Special" nominated for a 2020 "News Discussion and Analysis" Emmy Award. Radford also won the 2021 Gracie Award for National TV News On-Air Talent.
Prior to joining NBC News, Radford was an anchor for Al Jazeera America and previously worked for ABC News.
Following her graduation from Grimsley High School in 2005, she received her bachelor's degree from Harvard University, a master's degree from Columbia's Graduate School of Journalism and a Fulbright Fellowship from the United States State Department, where she spent one year teaching in Durban, South Africa. 
Along with Radford, guests can also expect to see traditional favorites such as dance and drill teams, local high school and college bands, and 13 recognizable character balloons wind their way through Downtown Greensboro from 12:00-2:00 p.m. on December 3rd.
Parade sign-ups are now open for any organization that would like to participate, and volunteers are wanted to assist with the parade setup and logistics. Visit Downtown in December for more information.